AOS3 – On A Knight Train 12″ EP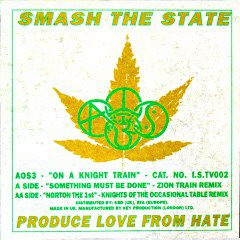 Artist: AOS3
Title: On A Knight Train
Source: Vinyl 12″ EP
Format: FLAC
Running time (h:m:s): 00:15:00
Size (mb): 100
Label: Inna State
Cat. No: I.S. TV002
Year: 1996
With the British summer seemingly over, I needed something a bit warm and cuddly to perk me up so grabbed this and threw it on the platter. It's been quite a while since I'd heard it and I'd forgotten just how chirpy it is. Don't expect the usual AOS3 sound if you grab this – the remixers, Zion Train and Knights Of The Occasional Table, take these tracks on a dancey mission that nicely exemplifies how the punks and ravers could 'get it on' when the mood took 'em.
It seemed a shame to keep these uplifting beeps and bleeps to myself so, whether it's grey or sunny outside, grab these and give yourself a drug-free boost (unless, like me, it's too late for the drug-free bit).
OP's opinion:

Click here to request the download link.
If you are the copyright owner and want us to take down your music, just click here and let us know. We're really not trying to piss anyone off, we just want to share rare and out-of-print music with people who want to hear it.