Blaggers I.T.A . – Guns Of Brixton EP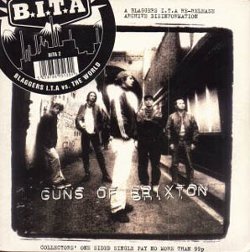 Artist: Blaggers I.T.A.
Title: Guns Of Brixton
Source: Vinyl 1-sided 7″ EP
Bitrate: FLAC
Running time (h:m:s): 00:03:13
Size (mb): 22.1
Label: Disinformation
Cat. No: BITA2
Year: 1992
As an extra bonus for the Blaggers lovers, here's the one-sided EP with their dubby bass-heavy version of The Clash's 'Guns Of Brixton'. As with most things Clash-inspired, I have a soft spot for this clever reworking. It was released on the label their manager set up after they were made persona non grata in the music biz world and dropped by EMI, mostly for Matty Blag's altercation with a poncy journo from Melody Maker who was fucking stupid enough to accuse him of still being a fascist.
OP's opinion:

Click here to request the download link.
If you are the copyright owner and want us to take down your music, just click here and let us know. We're really not trying to piss anyone off, we just want to share rare and out-of-print music with people who want to hear it.