Spanner In The Manor
This is a quick heads-up to let you know that my good friends Spanner are on the verge of releasing 'Crisis', their first full-length album, in April. It'll be available on both CD and 12 inches of shiny vinyl and is a collaborative effort between some of my favourite DIY labels – Active Distribution, Pumpkin Records and Maloka Records, as well as my new project Iron Column Records.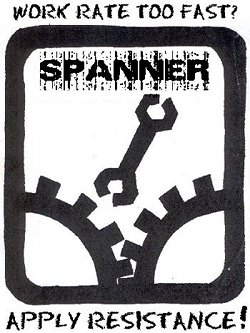 You can listen to / download four tracks from it on their Soundcloud page right now, and the rest of the album will be going up very shortly (all under a people-friendly Creative Commons licence).
Spanner knock out in-yer-face political punky ska, more spikey than skanky but still eminently danceable. They almost exclusively play benefit gigs at grassroots / DIY venues and band members aren't afraid to get their hands dirty at the sharp end of the struggle. And, while work and families occupy a lot of their time, they try and get out on the road as often as possible, including the odd jaunt to Europe. If they turn up somewhere near you, go and check 'em out.