Electro Hippies – The Only Good Punk…Is A Dead One LP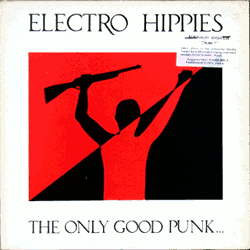 Artist: Electro Hippies
Title: The Only Good Punk…Is A Dead One
Source: Vinyl 12″ LP
Bitrate: FLAC
Running time (h:m:s): 00:30:23
Size (mb): 207
Label: Peaceville
Cat. No: VILE02
Year: 1987
Side 1:
Faith
Acid Rain
Run Ronald
Scum
B.P.
Unity
Terroreyes
So Wicked
Profit
Freddy's Revenge
Side 2:
Mistake
Things Of Beauty
Protest
Gas Joe Pearce
Lies
Tortured Tears
Turkeys
D.I.Y. (Not D.R.I.)
Suck
Deception
Note: I've not split these into individual tracks as they're so tightly packed they blur into one another. I haven't got the time to be fiddling around at the micro-editing level.
Back in the day when the only sort of core that most punks were interested in was the sort left behind when turning the outside of apples into cider, Electro Hippies appeared and, along with Napalm Death, brought to the punk conciousness pretty much all of the ones we've grown to know and love. The elements of grind, thrash, hard and crust all found solid form in the hands of these mis-named misfits. From slow and heavy growling to whirlwind-powered shredding, they covered all bases with their blend of tight-as-fuck tunes. Lyrics were smart given their brevity, even if you did need a crib sheet to follow the bulk of them.
EH also appeared on what was once (and may still be) the world's shortest record, making up the other half of the Napalm Death's 'You Suffer' 7″ with their rendition of 'Mega Armageddon Death Pt. 3' which, like the flip side, also clocked in at a ripping one second. The single was free with the first copies of the original 'Grindcrusher' comp LP, neither of which I have on vinyl any more – the single was nicked and I swapped the album for something better last year.
OP's opinion:

Click here to request the download link.
If you are the copyright owner and want us to take down your music, just click here and let us know. We're really not trying to piss anyone off, we just want to share rare and out-of-print music with people who want to hear it.