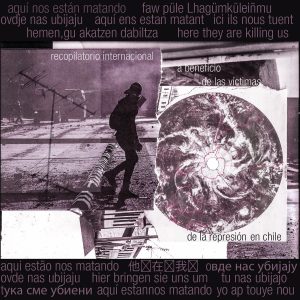 Aquí Nos Están Matando / Here They Are Killing Us – Various Artists
International
Released by imperecedero
Santiago, Chile
It's been kicking off all over recently, and the proles of Chile have got stuck right in. Over the last couple of months, what started as a protest over public transport fare hikes has erupted into open conflict with the state and its elites. The government have been forced to cancel major international events and have retreated to the point where they have agreed to hold a referendum on the country's Pinochet-era constitution and future direction. These 'concessions' haven't worked and the protests have continued.
That doesn't mean the state hasn't used violence against the protesters. On the contrary, the militarised police force have been responsible for murder, sexual violence, and torture, along with causing injuries to hundreds of people. Countless thousands have been arrested. Yet still the people won't back down.
Anyone who's been keeping abreast of what's been going on would've noted more than a few punk types getting stuck in. In the same spirit, punks from across the continent and around the world have been brought together by Chilean label / distro imperecedero to help raise money for those who've been at the sharp end of the state's response. The result is a massive 52-track compilation that spans the gamut of punk and beyond.
It's fair to say that many of the tracks are on the faster end of things, whether it's galloping hardcore or screaming grind, but there are also plenty of diversions into post-punk, noise/drone, dub, a bit of acid techno, and more besides. For the $4 (minimum) donation that's got to be the bargain of the year, even more so knowing that every cent goes directly into the hands of those who need it.
OP's opinion