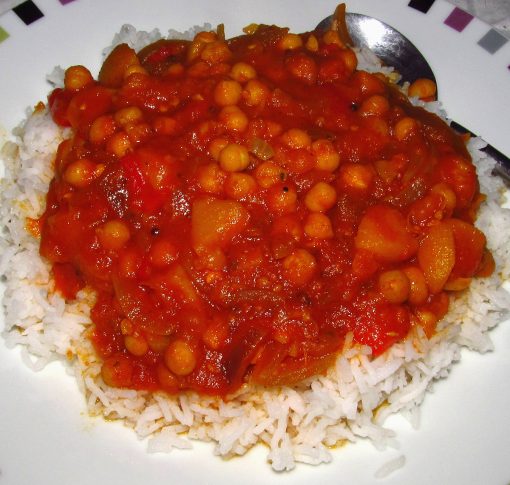 Peach? PEACH?! IN A CURRY??!!
That's pretty much what I immediately thought when I first glanced at this recipe from the fantastic Bootstrap Cook, Jack Monroe. But then I considered that one of my favourite curries is a pathia, which is hot, sweet, and sour. So why not?
I used Jack's recipe as the template and added a few more bits and bobs because I could. The result is pleasing. Very pleasing indeed.
Next time, I might drop the mustard seeds and add a pinch of mango powder (amchoor), or leave out the curry powder and throw in some garam masala at the end. Or do all of those things. The important thing is, there will be a next time.
Don't be weirded out by this seemingly strange combo. Give it a go and change your culinary horizons forever.
Serves 2-3
2 tbs veg oil
1 tin (~400g) peaches in juice, drained (keep the juice)
1 tin (~400g) chickpeas, drained
1 tin (~400g) chopped tomatoes
2 small onions (~150g), finely sliced
2-3 cloves garlic, crushed
2.5cm piece of fresh ginger, peeled and finely chopped
1 red chilli, finely chopped (and seeded if you don't want it too hot)
1 sweet red pepper. cut into chunks
1 tsp cumin seeds
0.5 tsp mustard seeds (optional)
1 tsp ground coriander
1 tsp medium curry powder
0.5 tsp ground turmeric
1 stock cube
1 tsp lime juice
Chopped fresh coriander to finish (optional)
If the chickpeas are a bit hard, cook them according to Jack's instructions in the original recipe.
Put oil in a pot over a low heat then add onion, garlic, chilli. ginger, cumin and mustard seeds when it's hot. Cook for 10 mins or so until it's all soft, adding the red pepper about halfway through. Stir now and again so it all cooks evenly.
Stir in the curry powder, coriander powder, and turmeric and cook for a minute, gently stirring as you go.
Chop the peaches quite small, then add into the onion and spice mix. Dump in the chickpeas too, and give it all a good mix.
Pour the tomatoes and tinned peach juice over everything, crumble the stock cube in, mix well, gently bring to the boil, then reduce heat to low and simmer for around half an hour, stirring occasionally. You may need to add a splash or two of water if the sauce gets a bit thick.
Just before serving, add the lime juice to the curry and mix it in. Serve over rice and sprinkle with the chopped coriander. Ideal with a cold cider on the side.
(Pro tip: I always liquidise tomatoes when I use them in a sauce, for two reasons – I find whole / chunks of cooked tomato most unpleasant to eat, and blitzed tomatoes make for a richer, more flavoursome, sauce base.)