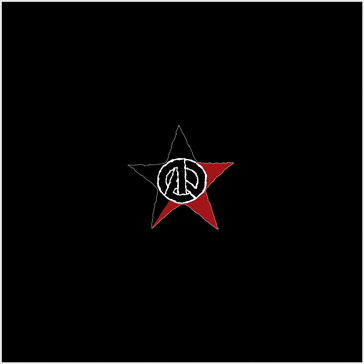 I have never been so happy or excited about a record as when this one arrived at my door. A//Political are one of my favourite bands of all time so there will be no surprise that I will have nothing but great things to say about them. Anyway, after a long wait this record finally is out and it is one that sees one of the most active anarcho peace punk bands' songs and writing compiled into a 60 page book and LP/CD.
A//Political claimed 'the music is just a soundtrack to the words'. Although this maybe true, what a great soundtrack. You can hear their heavily influenced peace punk carrying aspects of bands such as Crass and Conflict but brought together with a bit more speed and aggression to create a faster tempo and more hard hitting anarcho punk soundtrack, with similar drum beats to Crass and interludes which bring you to the next lyrically packed verse in which you will need the lyrics to keep up as they are spat out with passion across the soundtrack.
The book holds between its cover the lyrics to the songs including some tracks which are on the CD and not the LP. These are tracks which featured on the 'Planting The Seeds Of Revolution' demo tape. These lyrics are well thought out and take a good look at the system in which we live in and, in songs like 'Stop Thinking And Pogo' and 'Obscene Gestures', sizes up the punk community which we belong to. Also in the book is an interview between the band and Profane Existence and a history of the band, as well as some old fliers. Finally we come to the communiqués which were put out by the band, giving you that extra bit of anarchism.
They were a band that seemed to pick up from where the 80's anarcho bands left off trying to improve things, and broaden the look beyond that of the punk community to that of the wider world.
Great album, and the book has got everything you need for a good read on anarchism and punk.
AD's opinion:

A//Political Myspace
Buy from Threat To Existence Records and other fine distros