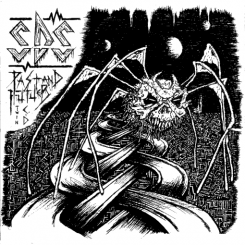 Artist: SDS
Title: Past And Future
Source: CD
Bitrate: FLAC
Running time (h:m:s): 01:29:46
Size (mb): 647.9
Label: Mangrove / MCR
Cat. No: ROOT-16.1/2 / MCR-139
Year: 1999
Disc 1
Revenge
Nuclear Death
Warfear
Alive? Dead
Distort Hope
Hell Storm
Warfear
Never Arise
Neo Wargasm
The End Of The World
False Freedom
Tomorrow
System Sucks
Death Rain
Riding On The Ghost At The Midnight
Future Stay In The Darkness Fog
No Dream Story
Disc 2
……. (Antisect)
Doomsday
Why?
Apocalypse Now
Turning Point
Protect & Resist
In To The Void
G.A.C.F.O.
Butcher
False Freedom
Distort Hope
Hell Storm
Naked Scream
Hell Storm II
Scum System Kill
Distort Fucking Hope
1000 Million Crying
Straight To Hell
I got this nice little comp as a thanks for sending a Yank my original press of Bolt Thrower's 'In Battle There Is No Law' LP, which had long sat unloved and unplayed in my boxes of plastic discs. I've definitely played this a lot more than I played that vinyl so I think I did alright out of the deal.
SDS (Societic Death Slaughter) don't really bring anything original to the table, but they do it in a very good way. Lots of chuggy metalcrust, a few bursts of speed, some deft fret-fingering solos that verge on being over-the-top, and all bound up with appropriate guttural grunts. You'll hear Antisect, Motörhead, Discharge and Metallica (before they got really shit) in the mix. When you're in the right mood, that's a nice line-up.
The two discs bring together almost all of their recorded output (as far as I can tell), remastered, and is chock-full of long out-of-print releases that would no doubt cost a small fortune even if you could track them down.
OP's opinion:

Click here to request the download link.
If you are the copyright owner and want us to take down your music, just click here and let us know. We're really not trying to piss anyone off, we just want to share rare and out-of-print music with people who want to hear it.