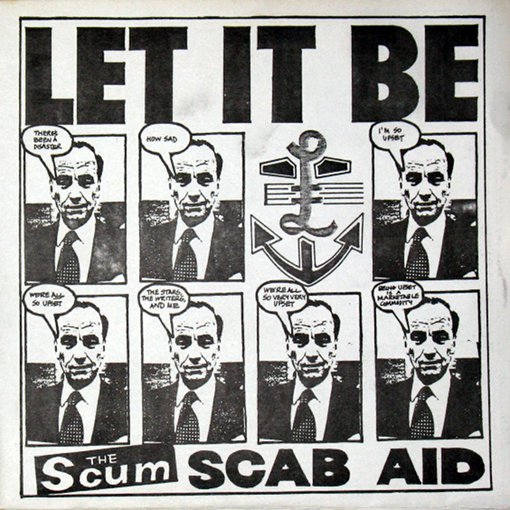 Artist: Scab Aid (Chumbawamba)
Title: Let It Be
Source: Vinyl 7″ EP
Bitrate: FLAC
Running time (h:m:s): 00:09:50
Size (mb): 53.5
Label: None
Cat. No: SCAB1
Year: 1987
Never ones to shy away from tackling the issues of the moment head-on, Chumbawamba released this single just after a bunch of has-been popstars collaborated with capitalist scumbag Rupert Murdoch and his shitrag tabloid The Sun, to release a 'charity' EP for victims of a tragedy that saw almost 200 people drown when a passenger ferry, the Herald Of Free Enterprise (no prizes for guessing the political affiliations of the owners), sank just outside the Belgian port of Zebrugge. Many of the dead were daytrippers who had taken advantage of a discounted offer in The Scum to stock up on cheap booze and fags.
The previous year, Murdoch, in collaboration with the Tory government, the cops and their own trade union bosses, had destroyed the union presence at his Wapping printing plant in a bitter dispute. 12 months of protest, sabotage and riot by a small but committed band of strikers and supporters were no match for the combined might of capital, reformist union leaders and the state (although it was fun while it lasted).
The cynicism of Murdoch and his chums in the music biz as they capitalised on the tragedy was only too apparent to those of us who had watched him destroy the lives of decent, hard-working people only months before. This EP gave a voice to our disgust, a feeling that remains to this day.
OP's opinion:

Click here to request the download link.
If you are the copyright owner and want us to take down your music, just click here and let us know. We're really not trying to piss anyone off, we just want to share rare and out-of-print music with people who want to hear it.
Requested by Phil of the rather excellent Canuck politico-punkers Humanifesto, who also happens to have a severe case of Chumbawambitis.