Now's the time of year to start thinking about heartier foods, the kind of solid scran you need to get you through the long cold nights and grey days. Crumbles are ideal, and not just the sweet ones that you can pack with seasonal fruits (blackberries in particular are superb right now). This recipe provides a substantial savoury mouthful that sits well with mashed spuds, Savoy cabbage, carrots, green beans, peas and gravy (don't scrimp on this, half a pint per person is my standard measure).
Serves 4.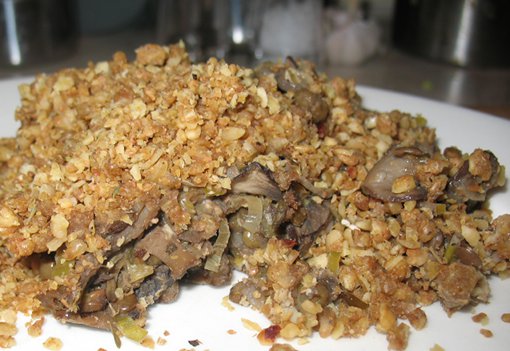 Crumble:
100g wholemeal flour
50g porridge oats
50g toasted chopped hazelnuts
4 tbs (1/4 cup) nutritional yeast or 1/4 tsp salt
1 tsp fresh thyme
75g vegan marg
Pepper to season
Filling:
100g dried Puy (French Green) lentils
Bay leaf
(Olive) oil for frying
175g mushrooms (try chestnut), halved and thinly sliced
2-3 banana shallots, finely chopped (you could also use a large onion or a leek)
1 stick celery, finely chopped
2 cloves garlic, crushed
1 tbs fresh sage, finely chopped
Worcestershire sauce (optional)
2 tsp flour
60 ml Madeira / sherry / other wine / stock
Pepper to season
Bring a litre or so of water to the boil, add the lentils and bayleaf, boil rapidly for 10 mins then reduce heat, cover and simmer for 20-25 mins until lentils are soft.
While they're cooking, make the crumble topping by first mixing the wholemeal flour, oats, hazelnuts, nutritional yeast, thyme and pepper together in a large bowl. Add the marg in chunks and start rubbing it into the dry mix until it's well combined and resembles chunky breadcrumbs. Set aside.
Now for the filling. Add some olive oil or marg to a frying pan over a medium heat. Put the shallots and celery in the pan and fry for 5-10 mins, stirring regularly, until the shallots are just beginning to caramelise (turn brown). Then add the mushrooms and garlic and fry for a few minutes more. The mushrooms should soften and start releasing their juices. Mix in the fresh sage then give the whole lot a good grind of pepper and a splash of Worcestershire sauce if using. Pour in the alcohol and continue stirring until most of it has evaporated, then sprinkle on the 2 tsp of flour and cook for another minute, still stirring.
By now, the lentils should be ready. Drain them and pour some of the cooking water (a few tablespoons should do) into the mushroom mix. Cook for a minute, stirring constantly, so you end up with just enough thickish sauce to coat everything. Remove the pan from the heat, add the drained lentils and give the whole lot another good stir to mix it up.
Pour the mushroom and lentil mix into the bottom of a deep ovenproof dish (around 15-20cm diameter) then cover with the crumble topping and lightly press down. Bake in a preheated oven at 200°C for around 40 minutes until golden then serve with all the trimmings. For extra comfort, have a glass of mulled red wine or cider too.