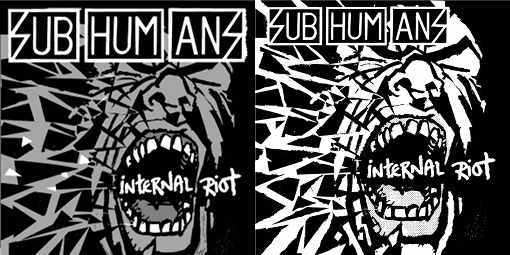 Subhumans – Internal Riot
Bluurg Records
More than twenty years on from their last studio release, the boys from Wessex have at last managed to drag their arses from the primordial punk slime to give us what we've all been waiting for. This record is, without doubt, their finest release to date. It's like they've dissected everything that's gone before, removed anything surplus to requirements and spliced the remaining material together again, capturing the very essence of the band in audio DNA.
As ever, Dick's words form the solid backbone of the beast unleashed. Straining with tension and urgency, they concentrate the mind very much on the matter at hand. But not with any sort of preachy dogma. He's much cleverererer than that, is Mr. Lucas. Instead they weave together some specifics of the moment (for example, the war in Iraq in 'This Year's War') with a broader analysis of the deeper issues and concepts underpinning them ('this year's war against terror, like the war on crime, is war against anyone, anytime'). And everything is underpinned with an almost personalised invitation (the kind you can't refuse) that drags you, the listener, right into the middle of the whole experience. It's a record that insists on and gets your active attention from start to end.
Musically, it's as flawless as the band have ever been. There's variation aplenty but it's as distinctive as hell. The bass and guitar trade witty and clever banter as they build their intricate wall of sound, while Trotsky's complex beats provide the framework. Meanwhile, Dick's voice cuts through at just the right volume to glue the whole lot together nicely. The power contained within this simple piece of plastic would give a thermo-nuclear device a run for its money (not that I'm suggesting you test this out in your living room).
I could rant on and on and on about this, but instead I'll just say 'Buy it. Buy it now, right this moment, before any other thought even has a chance to cross your mind'.
And in case you're wondering about the different cover images at the top, the one on the left shows the original artist's draft and the one on the right is the final version. To be honest, I think the draft is the better of the two except for the 'Subhumans' logo being too big (it's just about perfect on the final one). I suppose I could always colour mine in to match the original, but I'm not that sad or wreckless with my records (not these days, anyway).
Download sample track – 'Process'
OP's opinion: