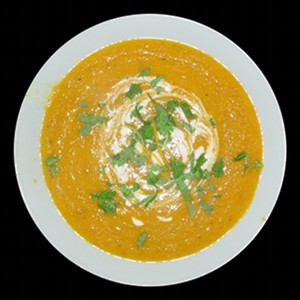 First off, I seem to have missed a week. I thought today was the first Monday of the month. Seems I was wrong. Sorry. I haven't been slacking, in fact I've been far busier than normal and am only about halfway trhough getting shit together for this month's posts. There will be music, bugs and free plants to follow over the coming weeks and months, so be patient.
Until then, here's a fresh yet hearty little number that is guaranteed to give you a zing. I think it's just as good in the summer as the winter and, if you took out the lentils and added a bit more carrot, would even work chilled if you like that kind of thing.
Serves 4 as a snack or 6 as a starter.
1 tbs olive / veg oil
500g carrots, halved lengthways and sliced
1 large red onion, diced
2 stick celery, diced
2 tbs coriander seeds
2 tsp cumin seeds
2 cloves garlic, crushed and chopped
2cm cube fresh ginger, peeled and finely chopped
175g red lentils
1.5l light (half-strength) veg stock
Juice of 2 oranges (approx 200ml)
Juice of half a lemon
Juice of half a lime
Orange, lemon and lime zest, finely shredded
A few stalks of fresh coriander, roughly chopped
Heat the oil in a large pot on a medium-low heat and stir in the onion and celery. Fry for a couple of minutes, then stir in the carrots, cover the pot and sweat for about 10 mins, stirring occasionally.
Heat a small pan on a medium-low heat and dry-fry the spices for a couple of minutes, shaking regularly, until they darken and begin to give off a nice whiff. Remove from the heat and crush the spices in a pestle and mortar (or spice mill if you're a lazy git).
Remove the lid from the large pot and add the spices, ginger and garlic to the veg. Add a good grind of black pepper if you fancy. Stir-fry for a couple of minutes.
Add the stock and lentils to the pot, bring to the boil, cover then simmer on a medium heat for around 20-25 minutes, until the lentils and carrots are soft. Around halfway through cooking, add the fruit juices. Don't forget to stir the soup now and again.
Blitz the whole lot with a hand blender or similar until it's nice and smooth. Put into bowls and garnish with a few shreds of the zest and a bit of chopped coriander.