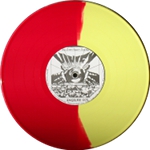 If you wanted conclusive proof that old punks don't need to learn new tricks to still sound relevant and fresh, this record is it. Kismet H.C. have been shredding instruments and eardrums since the dark ages of the late 1980's, with gaps of varying lengths along the way while members did other things like making babies. After their most recent tea-break they're back with more passion than ever.
This collaborative DIY 10″ was due out to mark their 15th year of anger, although in true punk style it decided to stay in bed a bit longer. No worries, the wait was more than worth it. For £4 plus a bit of postage, you get a lovely rhubarb n' custard-coloured record containing 8 tracks of no-nonsense hardcore. In fact, this album stands out for me as the best thing they've ever commited to a physical product. Age and access to decent recording facilities have allowed them to really capture their energy as never before. Everything's at breakneck pace while remaining crystal clear and tight as fuck. Zanne's voice stands strong without overpowering the mix, leading the rest of the band in a merry dance of thrashing madness with her energy and intensity. The instruments have almost inhuman demands put upon them as the boys pluck and pummel them to within an inch of their lives, and the resulting beat-perfect drums and hyperspeed riffs show a mean level of skill and competence.
The politics remain passionate and direct without getting trapped in the old clichés of yesteryear. Macho dancing, TV culture, domestic abuse, privilege and the struggle for freedom are all taken on and dissected with a passion and efficiency that reminds you that all is still not well in this world. It's obvious that Kismet HC have not taken their collective eyes off the ball over the years and are still just as fucking angry as they and we have every right to be.
OP's opinion:

Download sample track – Fuck Off Macho Bastards
Kismet H.C.'s Myspace