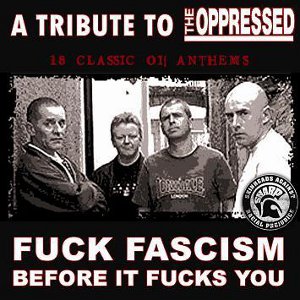 For those of you who don't know of 'em, The Oppressed are one of the key bands to have taken a stand against the braindead boneheads who've dared to try and worm their way into our scene. Totally in touch with their working class and skinhead roots, for almost 30 years they've celebrated our culture in a typically no-nonsense fashion. And that's included facing up to and facing down the fascist scum. While they might not be the most 'right-on' of bands in some eyes, there's no denying the simple passion and pleasure they get and give from belting out their own unique blend of classic British Oi!
To celebrate their history and continued involvement in the movement, Patrick (creator of the short-lived but highly influential RASH mag Skinhead Revolt) has put together this belter of a tribute CD. In true internationalist spirit, bands from across the globe have paid their respects to Roddy and the boys with their own takes on The Oppressed's back catalogue. My personal faves are Toro Bravo's (Lithuania) rendition of 'Don't Look Back' and Singapore's The Bois 'Fuck Fascism' but, with 18 tracks on offer, there should be enough choice to please the fussiest of anti-fascists.
For people who also like: The Oppressed (!)
OP's opinion:

Download sample track – Fuck Fascism (The Bois)
I have a few copies available for a fiver plus a quid for postage in the UK (proceeds to local antifa, natch), so drop me a line if you want one.