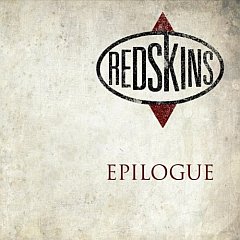 Back in the 80s, Britain and much of the rest of the world was a grim place and, to a large extent, the music we listened to reflected that. Sure we had coloured hair, drink, drugs and free festivals to take the edge off, and a few bands who tried to infuse their music with the joy of life rather than the fear of death. But mostly we listened to quite despairing noise about the state of the world which, although it stirred us up, could've sometimes done with a lighter side too.
Of those few bands who led the charge to a brighter future, The Redskins stand tall. Unashamedly left in the Marxist tradition, they still managed to endear themselves to many of the more militantly-inspired anarcho mob too, partly because they walked the political talk far more convincingly than other Reds we'd come across but mostly because their music was (and still is) just so fucking good! Here were tunes that were born in the heat of the dancefloor on Wigan Pier before becoming teenagers and hanging out in dingy pub back rooms with the punks. It was Northern meets rebel soul and the result was explosive.
Their recorded output was sparse, with only one studio album ('Neither Washington Nor Moscow') and a handful of singles along the way before they called it quits. Luckily, this gem of a CD has been given life by the good people at Insurgence and provides a fitting conclusion to their history. It pulls together the rarest cuts that chart the band's life, from the pre-Redskins days of No Swastikas in 1981 to a live recording of a gig in Germany from 1986, the year they called it quits. There's also an unbroadcast hidden track from the Peel session they recorded the same year.
The whole package is top notch, with a classy digipack sleeve, liner notes that capture the effect they had, a spot-on production job (especially considering the source material) and a selection of tunes worth every penny you'll pay for this disc.
For people who also like: 2-Tone, Mighty Mighty Bosstones, Rancid, all-night dancing
OP's opinion:

Download sample track – Unionise (CNT single)
Redskins fansite and forum
Buy from Insurgence Records