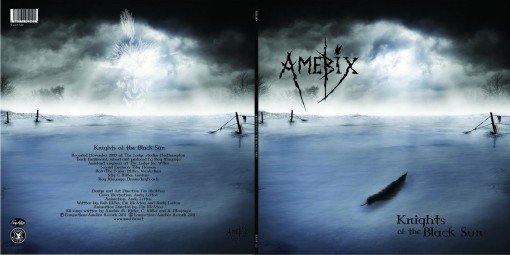 My oh my. This truly is a work of art, from the outside in.
Let's start with the sleeve. Ethereal tones of grey and blue swirl through each other to suggest a sense of freedom in what first appears to be a very foreboding landscape confined by the blackest of shadows. Immerse yourself in it for a minute and you'll see the shafts of a brighter dawn on the horizon, the sharp silhouette of a barbed wire fence trodden down by those brave enough to have stepped outside the prison, the feather laying on the ground a symbol of sacrifices made in order to escape the bonds, sacrifices that will soon be forgotten in the exhilaration of the liberation found beyond.
Turning to the contents, ignore the five or so minutes of groove on one side for now and flip the ultra-heavy 180g vinyl over (unless you've taken it out of its sleeve groove down). You'll behold a beautifully interpreted laser etching of ol' Splathead him/her/itself, a reflection of the hidden recesses of your mind staring back from an ebony mirror. But look more closely and you'll see yourself reflected too, a reminder of the power that lies within.
If you're anything like me, the artwork is heavy stuff. If you're not, you can just admire the lovingly executed design and imagery.
Anyway, on to the words and noise.
The lyrical symbolism is incredibly strong and rates as some of their most spellbinding to date. The years have given Rob the time to hone his wordcraft to absolute precision, evoking the great battles between dark and light that we all must face if we really seek our liberty. It's classic Amebix territory taken up a notch, steeped in poetical traditions but without losing anything of Rob's distinctive perspective, his ability to find that spark of hope in even the bleakest of times.
Musically, it's crisp, clean and crushing as fuck, layers of finely-balanced and interconnected riffs and rhythms, starting out as sparse as the best of Joy Division before building to a monstrously intense peak, accented and tail-ended with the most delicate of ambient atmospheres, subtle notes of piano and the faintest of strings, and all without vanishing up its own arse. This is noise of epic proportions that will engulf you completely.
Knowing that this is the last track on the forthcoming album makes perfect sense. It's a point of closure and a point of departure, the end of one journey and the start of the next. If everything that precedes it matches this finale, then The Amebix will undoubtedly have come of age.
As an added bonus, you get a download card (possibly pre-orders only, check with the labels) for an HD-quality CGI animation for the track by Andy 'Leffer' Lefton, also part of Minneapolis crust-punk combo War//Plague. You'll probably either love it or hate it depending on how you feel about CGI. Me, I love it. Given the constraints he worked under, having to hit a tight deadline using his own spare time, he's done genuine justice to the audio storyline.
The overall message here is clear – freedom begins within. It's up to you to smash your own chains and break on through to the other side. And you can do it, no matter how daunting things may first seem. Now that's a fucking slick thing to achieve with nothing more than a few words, noises and pictures.
If you're looking for The Amebix of yesteryear, you may end up quite badly disappointed. Personally, I think it's inspiring that the boys have each allowed their own internal (r)evolutions to be reflected in the sounds they're now creating.
Some are going to say it's pretentious bollocks (maybe both the record and what I've just written), a waste of good plastic. I say that, in this case, each part's an essential element of the whole. The aesthete in me approves most fully. And I love playing with words to try and capture how something makes me feel. From where I'm sat, that's the point and beauty of art. So bollocks to yer bollocks, and bollocks to mine too.
OP's opinion:

Listen to the song and watch the vid on YouTube
Amebix website
Buy from Profane Existence / Easy Action