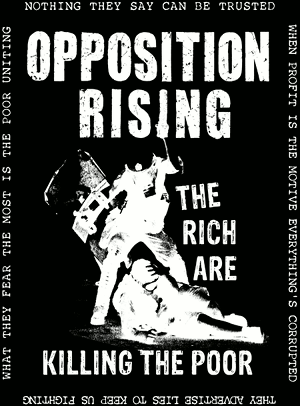 This is the first vinyl release from the rapidly-expanding Riot Ska Records collective (among others), and it's a great start for them.
Opposition Rising hail from Boston and band members have been heavily involved with the scene for many years. Their diverse tastes are reflected in the sound they've produced here, a pleasant cocktail of sharp old-school hardcore and dismetal with touches of what is probably best described as ska-crust. The production job is crisp without being too clean, very well suited to what they're doing, and everything fits nicely into place.
The band have matched the noise to some creative and intelligent lyrics, which is exactly what you'd expect from folk who've been around the block a few times. There's an an uncompromising attitude that could only really come from veterans of the social war. They've also made some conscious positive decisions about what DIY means to them when it comes to putting out their music in this day and age. It's nice to see the old guard (still) setting the pace in political punk rock discourse.
Being a vinyl nut, I scooped up the limited edition swamp green version from Riot Ska. The other labels involved – Active Rebellion (UK), Crash Assailant Records (US), Pirates Press Records (US), Rodent Popsicle (US) and Tankcrimes Records (US) – have each got their own limited colour pressings too (and they're all really nice). There are (not-so-limited) black copies available from the band's own label, Opposition Records, and all of the above.
You may also be able to track down the free CD version or, if not, you can download it for absolutely nothing from the Bandcamp page.
For people who also like: Varukers, Toxic Narcotic, Mouth Sewn Shut
OP's opinion:

Opposition Rising website
Buy from the labels or from Iron Column Records (black version).
NB: the band also appear on a 4-way split 7″ with Embrace The Kill, In Defence and Hellmouth, which is also available from ICR.