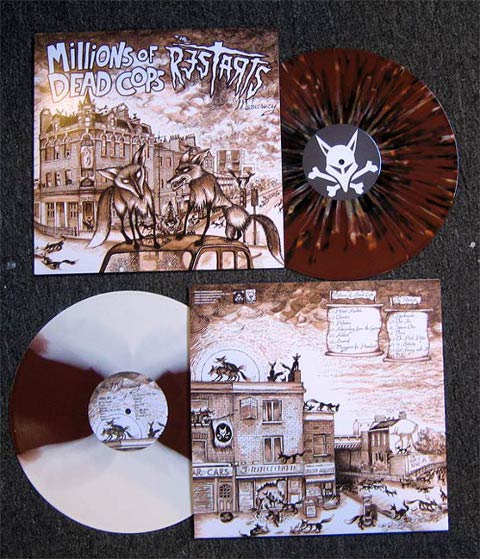 With two of my favourite bands on one record, I knew the chances of me being impressed were high even before the needle hit the groove. The splatter vinyl and top notch sleeve illustrations by Kieran Restart simply added to the thrill of anticipation. And thrilled I was once the technology did its thing and launched the noise into my living room (and, probably, my neighbour's too).
It's hard to believe that MDC have been doing their thing for over thirty years when you hear the youthful urgency and energy contained on their side of the wax. They've certainly not taken their foot off of the accelerator as the time has passed by. As well as the usual political targets left bullet-ridden by Dave Dictor's verbal crossfire, MDC also allow themselves to get more personal at times, sharing salutory tales from the scars they've picked up along the way. You'd be wise to listen to such wisdom. The intricacy in the music, especially when played so fast, shows a natural affinity between the band and their instruments that can only be acquired through having spent so long in each others company. The only slight criticism I have is that the sound is a little flat for my tastes, and some bits could do with stronger back-up (rhythm guitar?) when the fret-shredding begins in earnest. But the overall power of the whole thing is undeniable, especially when Dave's vox kick in. I'd even go as far as saying that this is the strongest release they've done since that classic first album and EP.
OP's opinion:

Download sample track – Patriot Asshole
MDC's Myspace
While The Restarts don't have the length of service of their American friends, they're certainly a familiar part of the punk rock furniture. Listening to this cuddly threesome bark out their heartfelt and down-to-earth thoughts and feelings about the world is both uplifting and comforting, like a big bowl of stew and dumplings on a cold winter's night. Sure, it might be grim outside but, with the right fuel inside you, you can face it head on and with a smile. Many bands try and pull off the straight-up street sound and no-nonsense attitude combo with varying degrees of success (and, more often, failure *cough* Casualties *cough*), but The Restarts manage it effortlessly because that's exactly what they are – straight-up no-nonsense punks. Whether it's at the 'punk Glastonbury' affairs that help pay the bills, or in a squatted basement raising cash for any number of causes that need it, they give it their all. They're on the road as often as they're not, so be sure to go and say hello if they pass anywhere nearby. Until then, grab this gem and turn your own humble abode into the next best thing.
OP's opinion:

Download sample track – Square One
The Restarts' website
A joint release between Rodent Popsicle (limited brown/white or splatter vinyl), Crash Assailant (CD), No Label (limited clear vinyl, black vinyl, CD) and Dirty Faces (same), or something like that.
It's worth saying that I bought this from Rodent Popsicle Records, as there was a bundle deal on at the time which meant I got this, a Toxic Narcotic pic disc LP, and two limited 7″s ('Human EP' and 'Solid EP') containing the above two plus the likes of Phobia, Embrace The Kill, Citizen Fish and Mouth Sewn Shut shared between them, plus a free copy of Mouth Sewn Shut's 'Doomed Future Today' CD (Bill, RPR's operator, also does the main shouty stuff for the band), all for $34. And twenty of that went on the airmail alone, plus another buck or so for the superb packing. I'm sure he must've lost money on this!  Bill is a lovely bloke to do business with and, even without the offers, the stuff he puts out is very nicely priced for such high quality items.
I'm sure the others are all equally as lovely too!