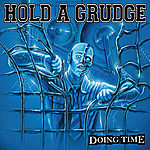 Hold A Grudge are classic mid-paced hardcore, the good old solid kind that'll get you through a bad day with enough left over for a pleasant supper. While at first it may seem like there's nothing particularly groundbreaking about the sound, listen a bit more closely and you'll find there's plenty of originality on show, more than enough to make it enjoyable to the ears rather than just a task they have to endure. Beyond the initial intensity we've come to love from the style, there's a strong street edge that's well-executed and is a respectful nod to their oldschool punk and Oi! forbears. And the smooth tightness that you'd expect from bandmates who've done hard time together is all present and correct.
Lyrics adopt a posi attitude with a sussed social conscience, but don't forget that everyday life can be tough at times. HAG know that survival doesn't always come easy and occasionally carries a heavy price, but never forget that the good times always outweigh the bad. It's clear that the need for unity underpins much of their thinking, and who can argue with that?
Altogether, this album is far more a pleasure than a chore and is a cut above much of what passes for hardcore these days.
For people who also like: Agnostic Front, Blitz, Conflict
OP's opinion:

Download sample track – Doing Time
Hold A Grudge Myspace
Buy from Insurgence Records