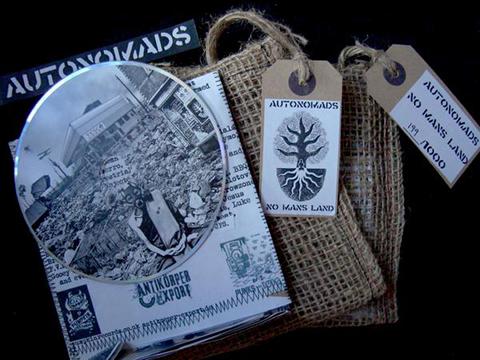 It's great to see DIY is still being kept alive by bands like The Autonomads. This release comes in a hand-folded A3 poster inside a hand-sewn hessian bag with a hand-numbered tag showing which one of the thousand pressed you've got. Impressive enough before you even get to the content. When you put this much care into the packaging, it's a pretty good bet you'll put some serious effort into what's inside too. Having seen the band live before picking this up I know they do exactly that when they plug in and turn on, and the CD doesn't deviate from the script.
This is tight and energetic punked-up ska with a decent splash of dubby sauce. It's set off perfectly with some nice upfront sax and crowd-pleasing singalong choruses. The lyrics are a mix of the personal and political, not too dissimilar to the creative wordplay favoured by Dick Lucas, which is exactly how it should be. Packed into the backroom of a pub with this lot on the stage gets the dancefloor hot n' sweaty very quickly. Grab this release and chances are you won't be able to resist a quick skank when you put it in the CD player too (although that's not so advisable if the CD player is in the car and you're driving).
For people who also like: Inner Terrestrials, The Blaggers, Sonic Boom Six
OP's opinion:

Download sample track – GMP (Greater Manchester Police)
The Autonomads' Myspace
Buy from Pumpkin Records or the band
I'd also like to point out how nice Pumpkin Records were when I bought this and a Warcoma EP (review coming) from them for a grand £8 including postage. There was a slight delay in getting the package sent as The Autonomads were still in the process of making the next batch of bags. As well as sending me very friendly email updates about the order, they also threw in a complimentary copy of 'Is It Fucking Worth It?' by Paradox (review also coming) when they were eventually able to post the discs out. There was even a lovely little hand-written note thanking me for my patience. Now that's punk as fuck!