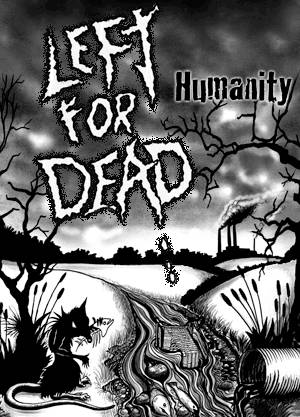 Once upon a time, punk rock turned up uninvited and gatecrashed polite society. Before too long, spiky herberts everywhere took the sound and attitude and really made it theirs. And so street punk was born, not on the lucrative mainstream circuit but in dodgy clubs and ropey pubs frequented by ne'er-do-wells of every shade. The music was raw but tuneful, created as much for a good time and a sing-a-long as for the propaganda within (and some bands didn't even bother with the second part). Since then, many bands, both full honours graduates from the university of life (Stage Bottles, The Restarts) and playschool poseurs (Rancid, The Casualties), have kept the street spirit alive. As it happens, I generally seem lucky enough to find plenty of the mature efforts from the former (even though I don't mind the odd bit of the latter), and such is the case with LFD.
Lyrics are upfront and direct, dealing with the whole stinking mess that is 'the system' without being too preachy or too intellectual. Why waste oxygen when sometimes a simple 'fuck off!' is all that's needed? That's not to say they don't use deeper ideas when the situation demands, but they still manage to keep it all short 'n' sweet. Each song challenges the restrictions that the current social order places on us and, more importantly, the ones we put on ourselves by playing along with and accepting the way things are.
When it comes to the tunes it's definitely old-school flavoured, very reminiscent of UK punk circa 80-82. The guitar is a solid rock-out affair, distortion without destruction, and layered with some catchy fretboard runs, bass riffs are clean, fluid and in plentiful supply, while the drums are well-constructed without being flamboyant. The vox are nicely delivered by the mutant offspring of Frankie Stubbs and Lemmy with the full force demanded from the sound. The production is sweet enough, not overly polished and in keeping with the feel, although I would personally prefer a slightly sharper top end on some of the percussion, just to lift it a bit in places. That's a minor quibble though, and overall I found the whole disc most pleasurable.
The packaging is right up my street, with some smooth black 'n' white work by Kieran Restart on the sleeve and fold-out poster (which also contains the lyrics), a photo of the band you can use to scare small children away, and all lovingly wrapped up in a semi-matt card digipak. Bonus points are also awarded for the fact they promote the use of Kentish cider, a simpler tipple when compared to our complex West Country brews but still a much-loved part of the family.
For people who also like: The Ruts, One Way System, Abrasive Wheels
OP's opinion:

Download sample track – We Don't Need You
Left For Dead Myspace
Buy from Active Distribution